The Therapy Dog Program, offered through St. John Ambulance, enables a dog handler team and their dog to visit most long-term care sites and some personal care homes within Eastern Health.
Therapy dogs, along with their handlers, extend non-judgmental companionship, comfort, and support to long-term care residents.
Residents of all ages enjoy the physical and emotional connection to therapy dogs. The company of therapy dogs can truly lift the spirits of those in need of socialization.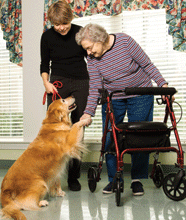 According to St. John Ambulance, benefits related to Therapy Dog Program include:
reduce stress levels;
lower blood pressure;
calm those who are distressed;
comfort those who are feeling despondent; and
distract those who are in pain.
As a Canadian initiative, the Therapy Dog Program offered through St. John Ambulance is a recognized leader in animal-assisted intervention. All dog handler teams and their dogs undergo a screening, assessment and evaluation process to ensure the program is delivered to the highest standards.
If you would like to request Therapy Dog services, or are interested in becoming a Therapy Dog volunteer, please contact:
Amy Vincent
Provincial Therapy Dog Coordinator
St. John Ambulance Newfoundland and Labrador Council
Tel: 709-757-3377
Email: amy.vincent@sja.ca
St. John Ambulance Newfoundland and Labrador Council
8 Thomas Byrne Drive
Mount Pearl, NL A1N 0E1
Tel: 709-726-4200
Toll Free: 1-800-801-0181
Email: sja@nl.sja.ca
Website: www.sja.ca