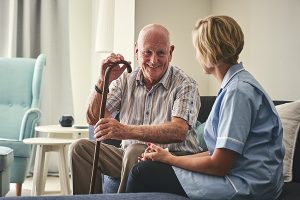 Dementia impacts the way a person remembers, thinks, feels and behaves. There are many types of dementia but Alzheimer's Disease is the most common.
People with dementia may display some behaviours, such as:
Trying to get home
Following/shadowing
Reaching out and/or grabbing behaviour
Searching
Collecting items
Pacing
Calling out
Pushing away
Striking out
Agitation
Swearing
Complaining
Repetitive questions or requests
Sexual expressions
The role of family in dementia care
It is hard for family members to watch and understand these behaviours. Family members have an important role to play in helping health providers develop a plan to reduce and manage behaviour symptoms of dementia. Family members can:
Work with the team to complete the All About Me (PDF) document. This document allows you to share important information about your loved one; their interests, hobbies, past jobs or eating habits, so a special plan can be developed.
Tell staff about your loved one's routine and his or her care patterns before moving into the home. Sharing this information is especially important if your loved one is no longer able to speak for themselves.
Spend time with your loved one to help him or her connect with a sense of knowing who he or she is, and what his or her life was like.
Check with staff to see if bringing any comfort items from home might be of benefit – such as photos without glass frames and blankets.
Keep an open mind about the use of non-drug care approaches to behaviours you may see with your loved ones, such as music, dolls and personal-centred bathing approaches.
Discuss any concerns around medications and side effects with the health-care team.
The health team
The long-term care staff have training about how to help manage dementia-related behaviours and will work with you to try and find out what helps manage them. As a team, we will develop an individual care plan. The care plan may also include referral to a psychiatrist, psychologist or behavior management specialist either at the home or in a hospital setting.
Other resources
If you have more questions about dementia, you may also reach out to your health-care team and community supports such as Alzheimer's Society of Newfoundland and Labrador at 709-576-0608 or 1-877-776-0608.