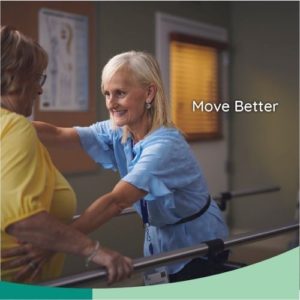 Physiotherapists (PT) have specialized clinical knowledge and skills to assess and treat symptoms of illness, injury and disability.
Physiotherapists offer expertise in exercise prescription to match the physical, functional and quality of life needs of the complex residents in long-term care (LTC). Physiotherapists services within long-term care are directed towards improving and maintaining functional independence, preventing and managing physical impairments and promoting health and wellness.
Residents, family members or any members of the health-care team may refer to physiotherapy. The physiotherapist will complete an assessment with the resident and based on findings and identified goals, design a treatment program to address preventative or therapeutic needs.
Physiotherapists encourage residents to assume responsibility for their health and participate in a team approach to health service delivery. Within long-term care, the level of intensity of physiotherapy services is primarily restorative and supportive. Physiotherapist support workers, under the direction/supervision of the physiotherapist, perform many of the delegated treatments.
Falls prevention is a priority clinical area for our physiotherapists in enhancing the safety and wellness of our residents. The physiotherapist is an integral member of the care team in creating and executing plans to address and mitigate our residents' falls risk.
Benefits of physiotherapists in long-term care
Improve or maintain mobility.
Restore function.
Improve transfer safety.
Reduce pain.
Reduce incidence of falls and fall related injuries.
Improve quality of life.