How can you be active in your care?
There are a number of things that you and your 
family can do to assist your care team in 
providing safer care.
Let the team know what your wishes are 

for your health and care.

Tell the doctor, nurse or social worker 

about how you are feeling or changes you m

ay be experiencing.

Know what medications you take and why 

you take them, along with their potential 

side effects and who to notify if you have 

questions.

Using walking aids when needed to help 

prevent falls.

Make sure you have the proper footwear 

for walking.

Practice good hand hygiene to help 

prevent the spread of infections (i.e. before eating and after coughing, sneezing or 

using the washroom).

Get the annual flu shot and the 

pneumococcal vaccine upon admission.

Ask your family and other visitors to stay 

at home if they are not feeling well.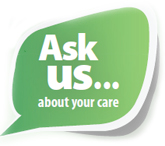 Ask us questions about:
Any medications that are unfamiliar to you.

Your plan of care and the best options for you.

If you need more information to help you make decisions about your care.

The names and roles of persons providing your care.

Our hand hygiene practices.